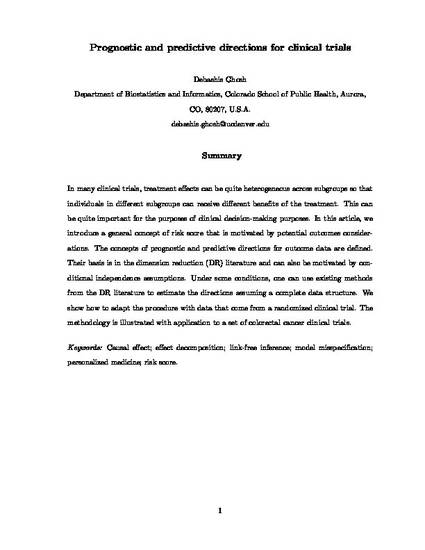 Article
Prognostic and predictive directions for clinical trials
Technical Report, Department of Biostatistics and Informatics, University of Colorado (2015)
Abstract
In many clinical trials, treatment effects can be quite heterogeneous across subgroups so that individuals in different subgroups can receive different benefits of the treatment. This can be quite important for the purposes of clinical decision-making purposes. In this article, we introduce a general concept of risk score that is motivated by potential outcomes consider- ations. The concepts of prognostic and predictive directions for outcome data are defined. Their basis is in the dimension reduction (DR) literature and can also be motivated by con- ditional independence assumptions. Under some conditions, one can use existing methods from the DR literature to estimate the directions assuming a complete data structure. We show how to adapt the procedure with data that come from a randomized clinical trial. The methodology is illustrated with application to a set of colorectal cancer clinical trials.
Keywords
Causal effect; effect decomposition; link-free inference; model misspecification; personalized medicine; risk score
Citation Information
Debashis Ghosh. "Prognostic and predictive directions for clinical trials"
Technical Report, Department of Biostatistics and Informatics, University of Colorado
(2015)
Available at: http://works.bepress.com/debashis_ghosh/73/