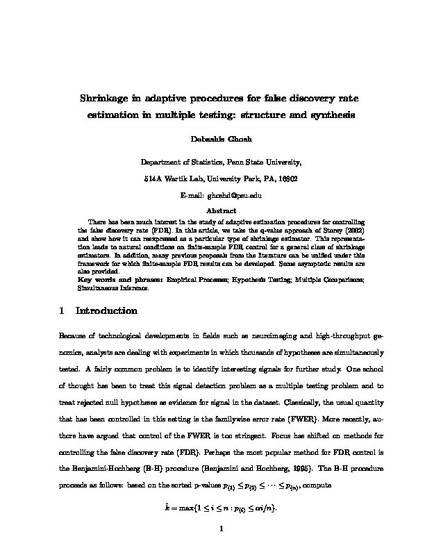 Article
Shrinkage in adaptive procedures for false discovery rate estimation in multiple testing: structure and synthesis
Technical Report, Department of Statistics, PSU (2012)
Abstract
There has been much interest in the study of adaptive estimation procedures for controlling the false discovery rate (FDR). In this article, we take the direct approach to estimation of FDR of Storey (2002) and show how it can reexpressed as a particular type of shrinkage estimator. This representation leads to natural conditions on finite-sample FDR control for a general class of shrinkage estimators. In addition, many previous proposals from the literature can be unified under this framework for which finite-sample FDR results can be developed. Some asymptotic results are also provided.
Keywords
Empirical Processes; Hypothesis Testing; Multiple Comparisons; Simultaneous Inference.
Citation Information
Debashis Ghosh. "Shrinkage in adaptive procedures for false discovery rate estimation in multiple testing: structure and synthesis"
Technical Report, Department of Statistics, PSU
(2012)
Available at: http://works.bepress.com/debashis_ghosh/53/