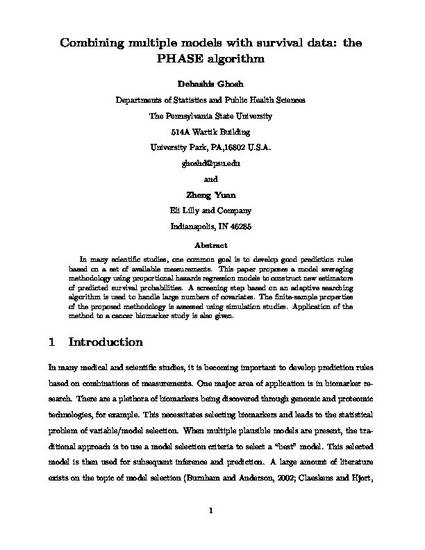 Article
Combining multiple models with survival data: the PHASE algorithm
Technical Report, Department of Statistics, Penn State University (2010)
Abstract
In many scientic studies, one common goal is to develop good prediction rules based on a set of available measurements. This paper proposes a model averaging methodology using proportional hazards regression models to construct new estimators of predicted survival probabilities. A screening step based on an adaptive searching algorithm is used to handle large numbers of covariates. The nite-sample properties of the proposed methodology is assessed using simulation studies. Application of the method to a cancer biomarker study is also given.
Citation Information
Debashis Ghosh and Zheng Yuan. "Combining multiple models with survival data: the PHASE algorithm"
Technical Report, Department of Statistics, Penn State University
(2010)
Available at: http://works.bepress.com/debashis_ghosh/45/