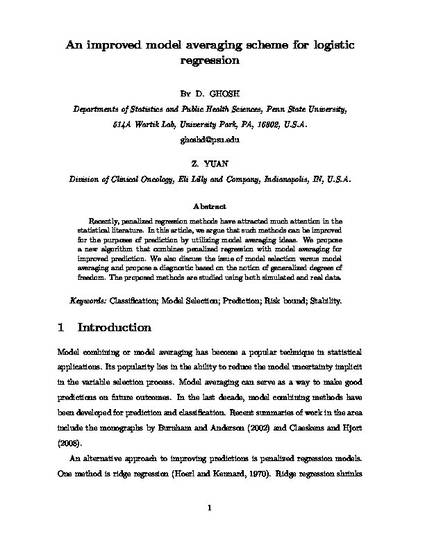 Article
An improved model averaging scheme for logistic regression
Technical report, Department of Statistics, Penn State University (2008)
Abstract
Recently, penalized regression methods have attracted much attention in the statistical literature. In this article, we argue that such methods can be improved for the purposes of prediction by utilizing model averaging ideas. We propose a new algorithm that combines penalized regression with model averaging for improved prediction. We also discuss the issue of model selection versus model averaging and propose a diagnostic based on the notion of generalized degrees of freedom. The proposed methods are studied using both simulated and real data.
Keywords
Classication; Model Selection; Prediction; Risk bound; Stability.
Citation Information
Debashis Ghosh and Zheng Yuan. "An improved model averaging scheme for logistic regression"
Technical report, Department of Statistics, Penn State University
(2008)
Available at: http://works.bepress.com/debashis_ghosh/29/