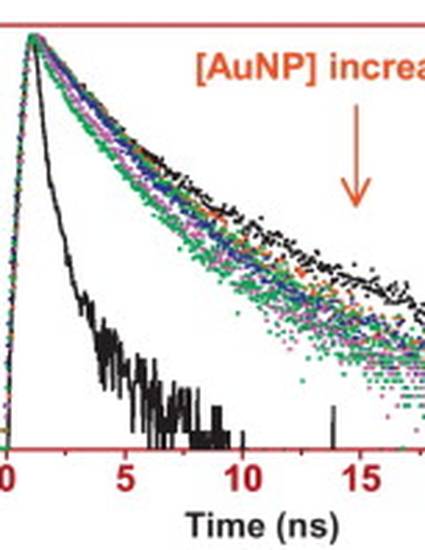 Article
Superquenching of Coumarin 153 by Gold Nanoparticles
Journal of Photochemistry and Photobiology A: Chemistry (2012)
Abstract
Superquenching of the laser dye, coumarin 153 (C153), by 16–59 nm gold nanoparticles (AuNPs) is reported from the steady state and time-resolved fluorometric investigations. Quenching of the steady state fluorescence of C153 and its fluorescence lifetime reveals energy transfer from the probe to AuNP in the photoexcited state. The Stern–Volmer constants (
K
SV
, 10
7
–10
9
 mol
−1
 dm
3
) determined from the quenching of the donor lifetime in the presence of AuNPs of varying sizes are orders of magnitude higher than those for the normal photochemical quenching processes. The quenching efficiency increases with an increase in the size of the nanoparticles. The importance of the work lies in providing a new and simple system to be exploited for developing biosensor with high degree of sensitivity.
Publication Date
June 4, 2012
DOI
10.1016/j.jphotochem.2012.05.027
Citation Information
Debanjana Ghosh, Agnishwar Girigoswami and Nitin Chattopadhyay. "Superquenching of Coumarin 153 by Gold Nanoparticles"
Journal of Photochemistry and Photobiology A: Chemistry
Vol. 242 (2012) p. 44 - 50
Available at: http://works.bepress.com/debanjana-ghosh/7/