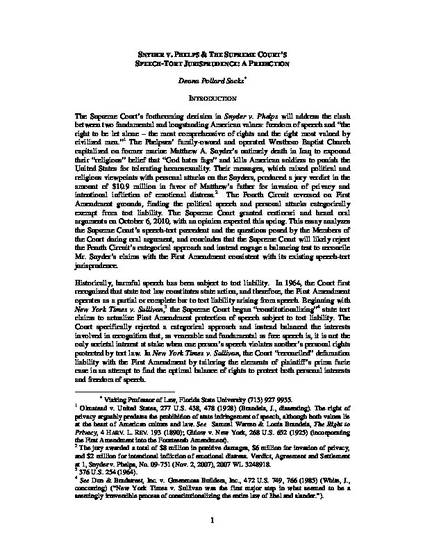 Unpublished Paper
SNYDER V. PHELPS & THE SUPREME COURT'S SPEECH-TORT JURISPRUDENCE: A PREDICTION
ExpressO (2010)
Abstract
In Snyder v. Phelps, members of the Westboro Baptist Church targeted a young marine's untimely death to exemplify their hate-filled message to the world that "God Hates Fags" and retaliates against America for tolerating homosexuality by killing American soldiers. A jury awarded the marine's father $10.9 million for invasion of privacy and emotional distress after the church members disseminated extremely hateful and personalized attacks against the fallen marine's family. The Supreme Court is reviewing the case to determine whether civil liability based on invasive, hate-filled, injurious speech violates the First Amendment. In New York Times v. Sullivan, the Supreme Court began a process of "constitutionalizing" tort liability arising from speech by raising the prima facie case evidentiary requirements of various torts to reconcile the interests protected by tort law with the First Amendment. If the Court stays true to its established speech-tort methodology, it will balance the interests involved in Snyder v. Phelps and allow limited civil liability by raising Mr. Snyder's burdens of proof to reconcile his tort claims with the First Amendment. This essay explains how the court is likely to accomplish this, based on the Court's speech-tort precedent and the justices' questions at oral argument on October 6, 2010.
Keywords
civil liability,
first amendment,
supreme court,
speech-tort,
new york times v. sullivan
Publication Date
October 25, 2010
Citation Information
Deana Ann Pollard Sacks. "SNYDER V. PHELPS & THE SUPREME COURT'S SPEECH-TORT JURISPRUDENCE: A PREDICTION"
ExpressO
(2010)
Available at: http://works.bepress.com/deana_pollard/8/