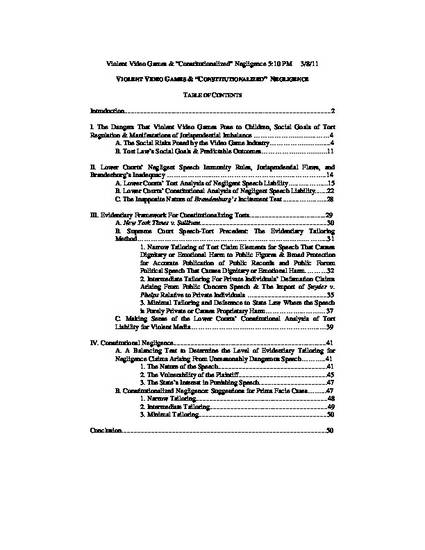 Unpublished Paper
Violent Video Games & "Constitutionalized" Negligence
ExpressO (2011)
Abstract
Violent video games create serious risks of harm to children's brain functioning, health, and safety. Extremely wealthy game producers' demonstrated disregard for children's safety raises questions about lower courts' negligent speech liability rules that effectively bar tort liability for unreasonably dangerous speech, including violent video games. Violent Video Games & "Constitutionalized" Negligence reviews the latest scientific data on the effects of violent video games on children and challenges the prevailing negligent speech liability rules generally, and specifically relative to violent video game producers' relationship with children. Most courts have adopted the Brandenburg incitement test to prove fault and causation in violent media and other dangerous speech cases, but the incitement test cannot properly address issues of fault and causation in such cases. The incitement test should be replaced by a "constitutionalized" negligence paradigm, consistent with the Supreme Court's method of "constitutionalizing" tort liability for speech by raising the prima facie evidentiary requirements of tort claims to reconcile them with the First Amendment. Violent Video Games & "Constitutionalized" Negligence proposes a constitutionalized negligence paradigm for analyzing tort liability for clearly unreasonably dangerous speech that in fact causes serious injury or death, and contextualizes the test relative to the facts concerning the violent video game industry and children.
Publication Date
March 8, 2011
Citation Information
Deana Ann Pollard Sacks. "Violent Video Games & "Constitutionalized" Negligence"
ExpressO
(2011)
Available at: http://works.bepress.com/deana_pollard/11/