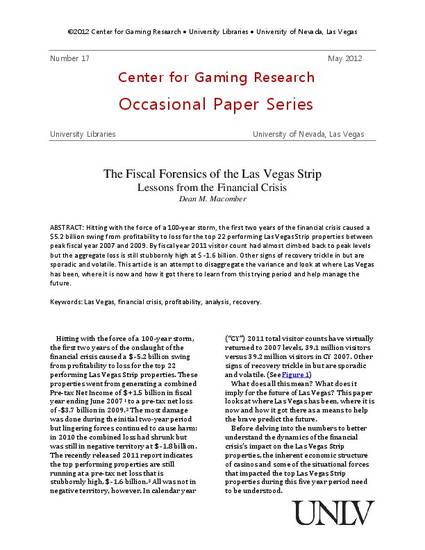 Article
The Fiscal Forensics of the Las Vegas Strip Lessons from the Financial Crisis
Center for Gaming Research Occasional Paper Series: Paper 17
Editors
David G. Schwartz
Document Type
Occasional Paper
Publication Date
5-1-2012
Publisher Location
Las Vegas, Nevada
Abstract
Hitting with the force of a 100-year storm, the first two years of the financial crisis caused a $5.2 billion swing from profitability to loss for the top 22 performing Las Vegas Strip properties between peak fiscal year 2007 and 2009. By fiscal year 2011 visitor count had almost climbed back to peak levels but the aggregate loss is still stubbornly high at $ -1.6 billion. Other signs of recovery trickle in but are sporadic and volatile. This article is an attempt to disaggregate the variance and look at where Las Vegas has been, where it is now and how it got there to learn from this trying period and help manage the future.
Keywords
Analysis,
Financial crises,
Financial crisis,
Gambling industry,
Global Financial Crisis,
2008-2009,
Nevada – Las Vegas,
Profitability,
Recovery,
Recessions,
Tourism
Citation Information
Dean M. Macomber. "The Fiscal Forensics of the Las Vegas Strip Lessons from the Financial Crisis"
Center for Gaming Research Occasional Paper Series: Paper 17
(2012) p. 1 - 16
Available at: http://works.bepress.com/dean_macomber/1/