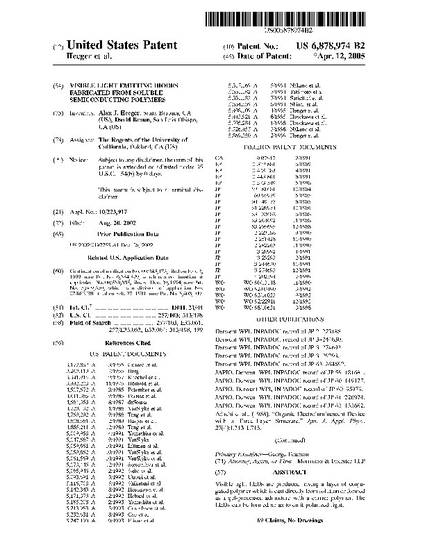 Other
Visible Light Emitting Diodes Fabricated From Soluble Semiconducting Polymers
United States Patent Number: 6,878,974 B2
Publication Date
4-12-2005
Abstract
Visible light LEDs are produced having a layer of conjugated polymer which is cast directly from solution or formed as a gel-processed admixture with a carrier polymer. The LEDs can be formed so as to emit polarized light.
Citation Information
Alan J. Heeger and David Braun. "Visible Light Emitting Diodes Fabricated From Soluble Semiconducting Polymers"
United States Patent Number: 6,878,974 B2
(2005) p. 1 - 11
Available at: http://works.bepress.com/dbraun/28/