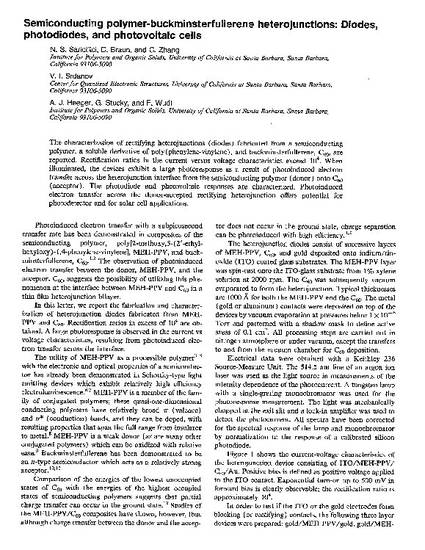 Article
Semiconducting Polymer-Buckminsterfullerene Heterojunctions: Diodes, Photodiodes, and Photovoltaic Cells
Applied Physics Letters
Publication Date
2-8-1993
Abstract
The characterization of rectifying heterojunctions (diodes) fabricated from a semiconducting polymer, a soluble derivative of poly(phenylene-vinylene), and buckminsterfullerene, C60, are reported. Rectification ratios in the current versus voltage characteristics exceed 104. When illuminated, the devices exhibit a large photoresponse as a result of photoinduced electron transfer across the heterojunction interface from the semiconducting polymer (donor) onto C60 (acceptor). The photodiode and photovoltaic responses are characterized. Photoinduced electron transfer across the donor-accepted rectifying heterojunction offers potential for photodetector and for solar cell applications.
Citation Information
N. S. Sariciftci, David Braun, C. Zhang, V. I. Srdanov, et al.. "Semiconducting Polymer-Buckminsterfullerene Heterojunctions: Diodes, Photodiodes, and Photovoltaic Cells"
Applied Physics Letters
Vol. 62 Iss. 6 (1993) p. 585 - 587
Available at: http://works.bepress.com/dbraun/16/