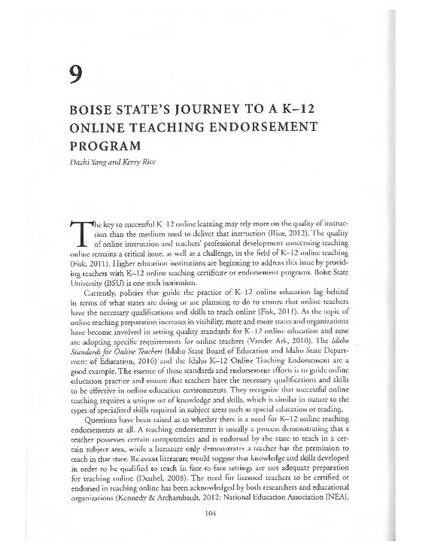 Contribution to Book
Boise State's Journey to a K-12 Online Teaching Endorsement Program
Online, Blended, and Distance Education in Schools: Building Successful Programs
Document Type
Contribution to Books
Publication Date
1-1-2015
Abstract
The key to successful K-12 online learning may rely more on the quality of instruction than the medium used to deliver that instruction (Rice, 2012). The quality of online instruction and teachers' professional development concerning teaching online remains a critical issue, as well as a challenge, in the field of K-12 online teaching (Fisk, 2011). Higher education institutions are beginning to address this issue by providing teachers with K-12 online teaching certificate or endorsement programs. Boise State University (BSU) is one such institution.
Copyright Statement
This document was originally published by Stylus Publishing, LLC, in Online, Blended, and Distance Education in Schools: Building Successful Programs. Copyright restrictions may apply.
Citation Information
Dazhi Yang and Kerry Rice. "Boise State's Journey to a K-12 Online Teaching Endorsement Program"
Online, Blended, and Distance Education in Schools: Building Successful Programs
(2015)
Available at: http://works.bepress.com/dazhi_yang/36/