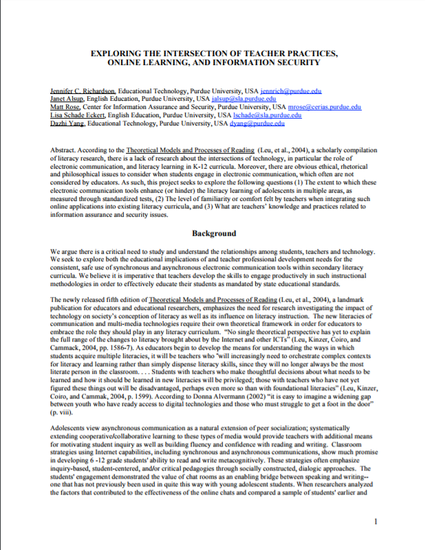 Article
Exploring the Intersection of Teacher Practices, Online Learning, and Information Security
The Center for Education and Research in Information Assurance and Security (CERIAS) Tech Report, Purdue University (2004)
Abstract
According to the Theoretical Models and Processes of Reading (Leu, et al., 2004), a scholarly compilation of literacy research, there is a lack of research about the intersections of technology, in particular the role of electronic communication, and literacy learning in K-12 curricula. Moreover, there are obvious ethical, rhetorical and philosophical issues to consider when students engage in electronic communication, which often are not considered by educators. As such, this project seeks to explore the following questions (1) The extent to which these electronic communication tools enhance (or hinder) the literacy learning of adolescents in multiple areas, as measured through standardized tests, (2) The level of familiarity or comfort felt by teachers when integrating such online applications into existing literacy curricula, and (3) What are teachers' knowledge and practices related to information assurance and security issues.
Citation Information
Jennifer C. Richardson, Janet Alsup, Matt Rose, Lisa Schade Eckert, et al.. "Exploring the Intersection of Teacher Practices, Online Learning, and Information Security"
The Center for Education and Research in Information Assurance and Security (CERIAS) Tech Report, Purdue University
Vol. 2004 Iss. 29 (2004)
Available at: http://works.bepress.com/dazhi_yang/2/