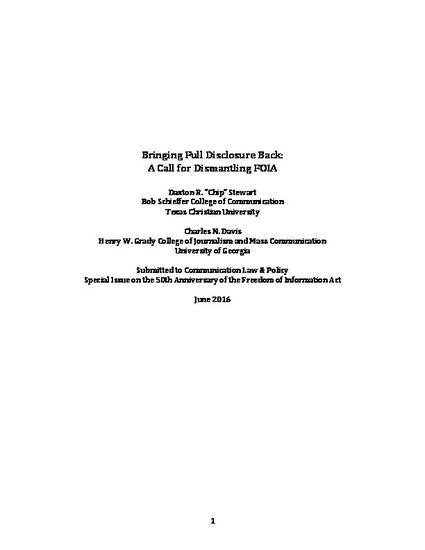 Article
Bringing Full Disclosure Back: A Call for Dismantling FOIA
Communication Law & Policy (2016)
Abstract
Fifty years of experience have taught us that the federal Freedom of Information Act is in desperate need of an overhaul, one that goes beyond tinkering with exemptions and updating wording in the presumption of openness, if it is going to live up to Congress' intent of providing "full disclosure" of federal agencies. With an eye toward maximizing the benefits of electronic record-keeping and proactive disclosure, w
e propose dismantling FOIA and replacing it with a law guided by the following three principles: (1) Government records should be open and accessible by the public from the moment of creation, using portals and automation to reduce barriers to access as much as possible; (2)Exceptions that would result in closure or redaction should be narrow, used sparingly, determined when a record is created, and transparently reported to the public. Consequences for abusing exemptions or otherwise violating the law should be severe and swift; (3) Incentives should be shifted so that it is harder to close a record than to make it available for public inspection and copying. Government inaction should never result in delay or denial of access.
Keywords
Freedom of Information Act,
Proactive Disclosure,
Transparency,
Right to Know
Publication Date
June 20, 2016
Citation Information
Daxton R Stewart and Charles N Davis. "Bringing Full Disclosure Back: A Call for Dismantling FOIA"
Communication Law & Policy
(2016)
Available at: http://works.bepress.com/daxton_stewart/17/