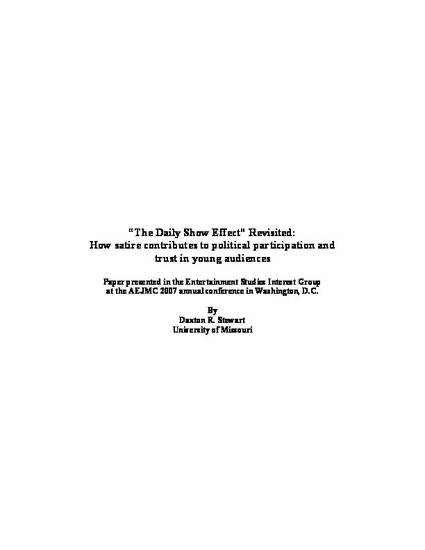 Presentation
"The Daily Show Effect" Revisited: How satire contributes to political participation and trust in young audiences
AEJMC annual conference, Entertainment Studies Interest Group (2007)
Abstract
In 2006, Baumgartner and Morris examined what they called "The Daily Show Effect," which suggested that viewership of the humor-based news show on Comedy Central corresponded with an increase in political efficacy but a decrease in perceptions of trustworthiness of candidates. This effect was further examined in this study in the context of political participation and trust in politicians in general. A survey was conducted of 650 participants age 18 to 22, asking questions about respondents' media consumption, political participation at both active and passive levels, and perceptions of political trust. Results showed that viewership of The Daily Show and The Colbert Report correlated to increased levels of political participation but decreased levels of political trust, suggesting a possible extension of "The Daily Show Effect." In addition, consumption of this brand of "soft news" differed significantly from consumption of more traditional "hard" news media; while greater consumption of both correlated to higher levels of political participation, "hard news" consumption was associated with more positive views of political trustworthiness.
Keywords
Daily Show,
Colbert Report,
Satire News,
Trust,
Participation
Publication Date
August, 2007
Citation Information
Daxton R Stewart. ""The Daily Show Effect" Revisited: How satire contributes to political participation and trust in young audiences"
AEJMC annual conference, Entertainment Studies Interest Group
(2007)
Available at: http://works.bepress.com/daxton_stewart/13/