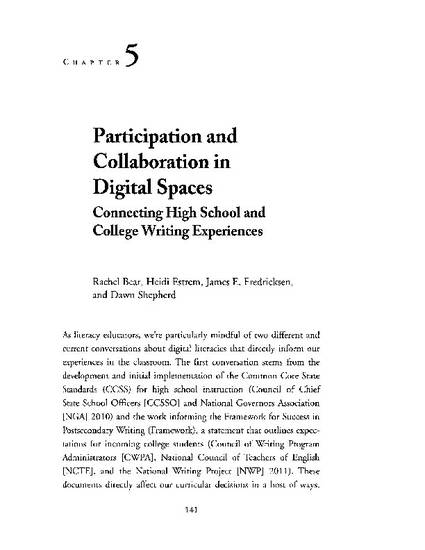 Contribution to Book
Participation and Collaboration in Digital Spaces: Connecting High School and College Writing Experiences
The Next Digital Scholar: A Fresh Approach to the Common Core State Standards in Research and Writing
Document Type
Contribution to Books
Publication Date
1-1-2014
Abstract
As literacy educators, we're particularly mindful of two different and current conversations about digital literacies that directly inform our experiences in the classroom. The first conversation stems from the development and initial implementation of the Common Core State Standards (CCSS) for high school instruction (Council of Chief State School Officers [CCSSO] and National Governors Association [NGA] 2010) and the work informing the Framework for Success in Postsecondary Writing (Framework), a statement that outlines expectations for incoming college students (Council of Writing Program Administrators [CWPA], National Council of Teachers of English [NCTE], and the National Writing Project [NWP] 2011). These documents directly affect our curricular decisions in a host of ways. The second conversation that informs our experiences in the classroom is a larger cultural conversation about the implications of digital literacy practices and opportunities. Together, these twin conversations highlight the unsettled, ever-shifting landscape in which the authors of this chapter (Rachel Bear, a high school English teacher; Heidi Estrem and Dawn Shepherd, college professors and writing program administrators; and James E. Fredricksen, a college English education professor) work.
Copyright Statement
This document was originally published by Information Today, Inc./ASIS&T in The Next Digital Scholar: A Fresh Approach to the Common Core State Standards in Research and Writing. Copyright restrictions may apply.
Citation Information
Rachel Bear, Heidi Estrem, James E. Fredricksen and Dawn Shepherd. "Participation and Collaboration in Digital Spaces: Connecting High School and College Writing Experiences"
The Next Digital Scholar: A Fresh Approach to the Common Core State Standards in Research and Writing
(2014)
Available at: http://works.bepress.com/dawn_shepherd/7/