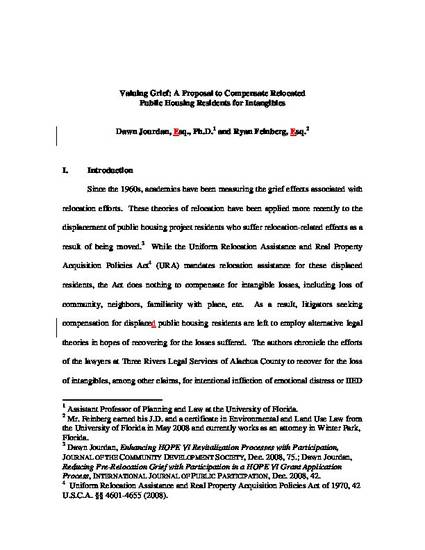 Unpublished Paper
Valuing Grief: A Proposal to Compensate Relocated Public Housing Resident for Intangibles
ExpressO (2010)
Abstract
Residents of public housing are frequently relocated in an effort to modernize antiquated public housing units. While, in the long run, this type of redevelopment is intended to have revitalizing effects on communities, as well as providing better quality units of subsidized housing for those that need it, the resulting displacement can disrupt the stability of the residents' lives. This paper reviews an intentional infliction of emotional distress claim by Three Rivers Legal Services on behalf of the residents of Kennedy Homes to recover for the relocation grief the residents suffered as a result of being permantently relocated from this housing project after a fire. The article considers alternative compensation schemes that might be more appropriate to ensure that displaced public housing residents are relocated responsibly and compensated for the loss of community they may suffer as a result of such permanent relocations.
Keywords
public housing,
relocation grief,
just compensation
Publication Date
January 13, 2010
Citation Information
Dawn E Jourdan. "Valuing Grief: A Proposal to Compensate Relocated Public Housing Resident for Intangibles"
ExpressO
(2010)
Available at: http://works.bepress.com/dawn_jourdan/2/