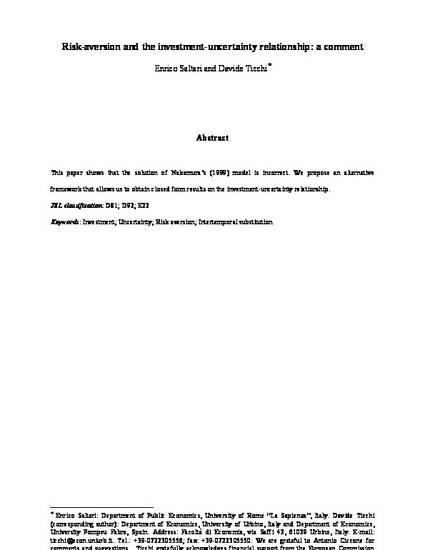 Article
Risk-Aversion and the Investment-Uncertainty Relationship: A Comment
Journal of Economic Behavior & Organization (2005)
Abstract
This paper shows that the solution of Nakamura's [Journal of Economic Behavior and Organization 38 (1999) 357] model is incorrect. We propose an alternative framework that allows us to obtain closed form results on the investment-uncertainty relationship.
Keywords
Investment,
Uncertainty,
Risk aversion,
Intertemporal substitution
Publication Date
January, 2005
DOI
10.1016/j.jebo.2003.08.002
Citation Information
Enrico Saltari and Davide Ticchi. "Risk-Aversion and the Investment-Uncertainty Relationship: A Comment."
Journal of Economic Behavior & Organization
, 2005, 56(1), 121-125.