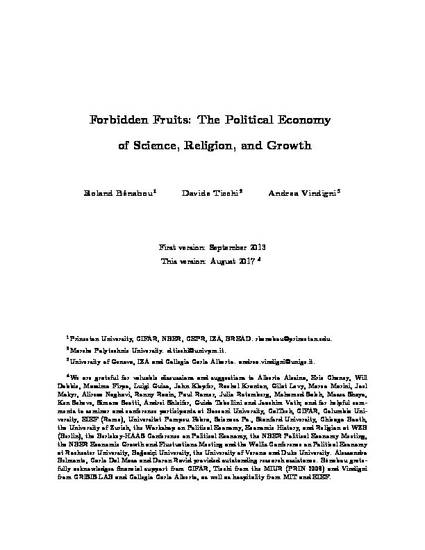 Unpublished Paper
Forbidden Fruits: The Political Economy of Science, Religion, and Growth
NBER Working Paper No. 21105 (2015)
Abstract
We study the coevolution of religion, science and politics. We first uncover, in international and U.S. data, a robust negative relationship between religiosity and patents per capita. The model then combines: (i) scientific discoveries that raise productivity but sometimes erode religious beliefs; (ii) a government that allows innovations to diffuse, or blocks them; (iii) religious institutions that can invest in doctrinal reform. Three long-term outcomes emerge. The "Western-European Secularization" regime has declining religiosity, unimpeded science, and high taxes and transfers. The "Theocratic" regime involves knowledge stagnation, unquestioned dogma, and high religious-public-goods spending. The "American" regime combines scientific progress and stable religiosity through doctrinal adaptations, with low taxes and some fiscal-legal advantages for religious activities. Rising income inequality can, however, empower a Religious-Right alliance that starts blocking belief-eroding ideas.
Publication Date
April, 2015
Citation Information
Roland Bénabou, Davide Ticchi, and Andrea Vindigni. 2015. "Forbidden Fruits: The Political Economy of Science, Religion, and Growth". NBER Working Paper No. 21105. Previous draft: December 2013, Princeton University William S. Dietrich II Economic Theory Center Research Paper No. 065-2014.