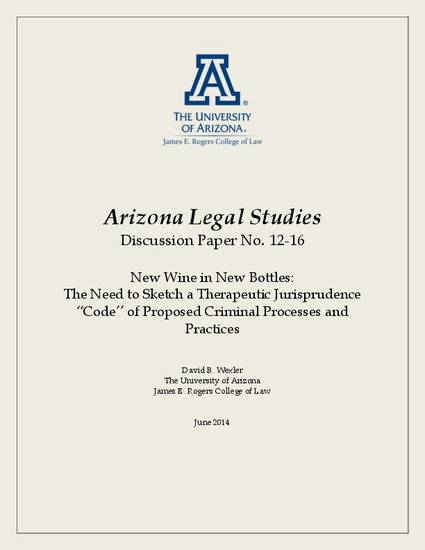 Article
New Wine in New Bottles: The Need to Sketch a Therapeutic Jurisprudence "Code" of Proposed Criminal Processes and Practices
Arizona Summit Law Review (2014)
Abstract
.This essay is based on an invited opening keynote address at Oxford University(Balliol College) Conference on Therapeutic Jurisprudence and Problem-Solving Justice, August 7-8, 2012.
A method of looking at the applicable law as "bottles" and at the practices of legal actors such as judges, lawyers, and therapists as "wine", thus enabling us to understand the important link between the law and its administration
Keywords
therapeutic jurisprudence
Citation Information
David Wexler. "New Wine in New Bottles: The Need to Sketch a Therapeutic Jurisprudence "Code" of Proposed Criminal Processes and Practices"
Arizona Summit Law Review
(2014) p. 463
Available at: http://works.bepress.com/davidbwexler/6/