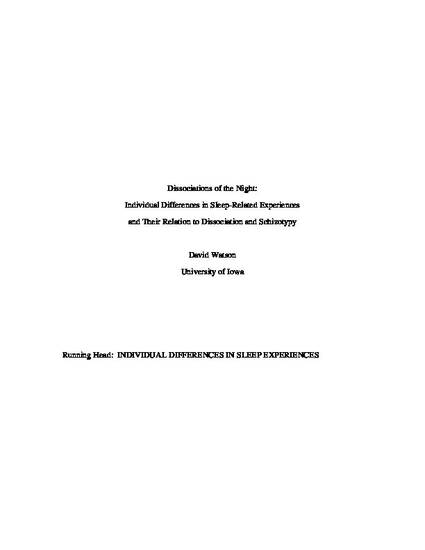 Article
Dissociations of the Night: Individual Differences in Sleep-Related Experiences and Their Relation to Dissociation and Schizotypy
Journal of Abnormal Psychology
Publication Date
11-1-2001
NLM Title Abbreviation
J Abnorm Psychol
DOI of Published Version
10.17077/cbz7-985x
Abstract
I examined the associations among sleep-related experiences (e.g., hypnagogic hallucinations, nightmares, waking dreams, lucid dreams), dissociation, schizotypy and the Big Five personality traits in two large student samples. Confirmatory factor analyses indicated that (a) dissociation and schizotypy are strongly correlated—yet distinguishable— constructs and (b) the differentiation between them can be enhanced by eliminating detachment/depersonalization items from the dissociation scales. A general measure of sleep experiences was substantially correlated with both schizotypy and dissociation (especially the latter) and more weakly related to the Big Five. In contrast, an index of lucid dreaming was weakly related to all of these other scales. These results suggest that measures of dissociation, schizotypy and sleep-related experiences all define a common domain characterized by unusual cognitions and perceptions.
Keywords
sleep-related experiences,
hypnagogic hallucinations,
nightmares,
waking dreams,
lucid-dreams,
dissociation,
schizotypy,
Big Five personality traits,
individual differences
Journal Article Version
Accepted Manuscript
Rights
Copyright © American Psychological Association, 2001. This article may not exactly replicate the final version published in the APA journal. It is not the copy of record. Posted by permission.
Citation Information
David Watson. "Dissociations of the Night: Individual Differences in Sleep-Related Experiences and Their Relation to Dissociation and Schizotypy"
Journal of Abnormal Psychology
Vol. 110 Iss. 4 (2001)
Available at: http://works.bepress.com/david_watson/5/