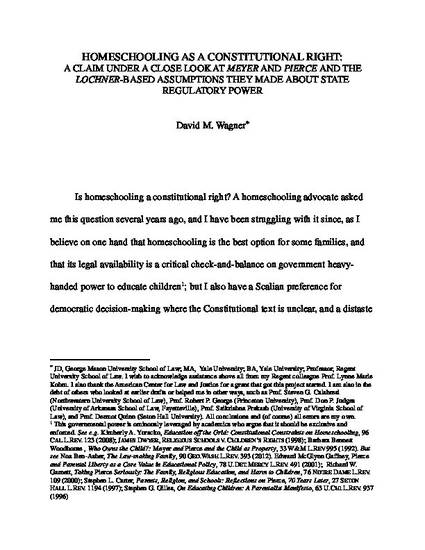 Unpublished Paper
HOMESCHOOLING AS A CONSTITUTIONAL RIGHT: A CLAIM UNDER A CLOSE LOOK AT MEYER AND PIERCE AND THE LOCHNER-BASED ASSUMPTIONS THEY MADE ABOUT STATE REGULATORY POWER
ExpressO (2014)
Abstract
In 2012, a German family of would-be homeschoolers, the Romeikes, fled to the U.S. to escape fines and child removal for this practice, which has been illegal in Germany since 1938. The Sixth Circuit, in denying their asylum request, conspicuously did not slam the door on the possibility that if the Romeikes were U.S. citizens, they might have a right to homeschool. This article takes up that question, and argues that Meyer and Pierce, the classic cases constitutionalizing the right to use private schools, point beyond those holdings towards a right to homeschool; and that the permissible state regulations on private schooling acknowledged by the Court in Pierce should be interpreted not, anachronistically, in post-New Deal/Great Society terms, but as the Court most likely meant them, envisioning a close judicial look for a means-ends fit between a regulation and a permissible state goal, as in Lochner (now undergoing a revival). Even discounting Lochner, this approach to regulation can be seen in more recent cases, such as Nollan v. California Coastal Commission. I conclude that a basis exists for arguing that homeschooling is constitutionally protected.
Keywords
homeschooling,
Meyer,
Pierce,
parents,
parents's rights,
Fourteenth Amendment,
due process,
substantive due process,
unenumerated rights,
Lochner,
Germany,
Romeike
Publication Date
February 19, 2014
Citation Information
David M Wagner. "HOMESCHOOLING AS A CONSTITUTIONAL RIGHT: A CLAIM UNDER A CLOSE LOOK AT MEYER AND PIERCE AND THE LOCHNER-BASED ASSUMPTIONS THEY MADE ABOUT STATE REGULATORY POWER"
ExpressO
(2014)
Available at: http://works.bepress.com/david_wagner/5/