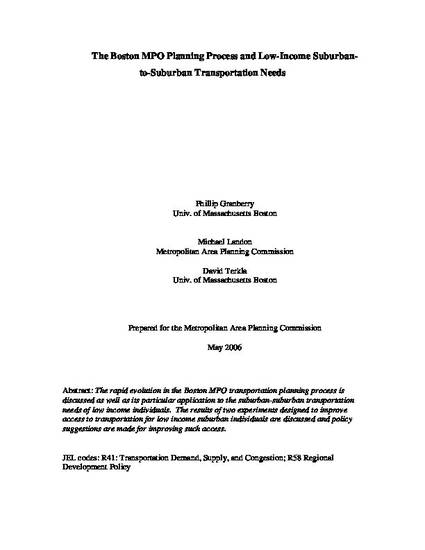 Unpublished Paper
The Boston MPO Planning Process and Low-Income Suburban-to-Suburban Transportation Needs
Economics Faculty Publication Series
Document Type
Occasional Paper
Publication Date
1-1-2006
Abstract
The rapid evolution in the Boston MPO transportation planning process is discussed as well as its particular application to the suburban-suburban transportation needs of low income individuals. The results of two experiments designed to improve access to transportation for low income suburban individuals are discussed and policy suggestions are made for improving such access.
Community Engaged/Serving
No, this is not community-engaged.
Citation Information
Phillip Granberry, Michael Landon and David Terkla. "The Boston MPO Planning Process and Low-Income Suburban-to-Suburban Transportation Needs" (2006)
Available at: http://works.bepress.com/david_terkla/2/