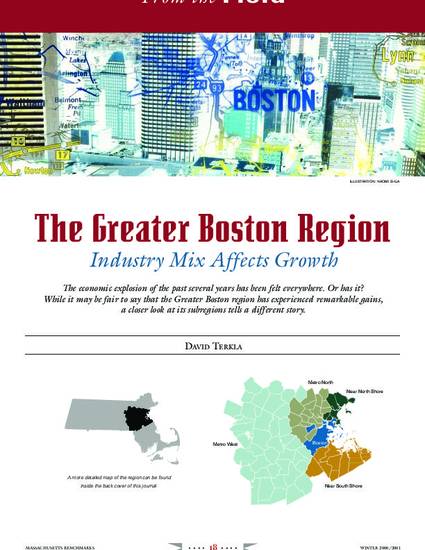 Article
The Greater Boston Region: Industry Mix Affects Growth
Economics Faculty Publication Series
Publication Date
1-1-2001
Abstract
Overall prosperity in the Greater Boston region masks the extreme diversity among its cities and towns. Some areas have experienced robust growth in relatively high paying industries. Others have faced growth only in low-paying jobs, accompanied in many cases by a substantial decline in high-paying sectors. By examining the area's five subregions in terms of industry types, wage levels, and employment growth, we begin to see reasons for these differences.
Community Engaged/Serving
No, this is not community-engaged.
Publisher
University of Massachusetts
Citation Information
Terkla, David, "The Greater Boston Region: Industry Mix Affects Growth" (2001). MassBenchmarks. Vol. 4, No. 1, pp. 18-22: http://scholarworks.umb.edu/econ_faculty_pubs/19