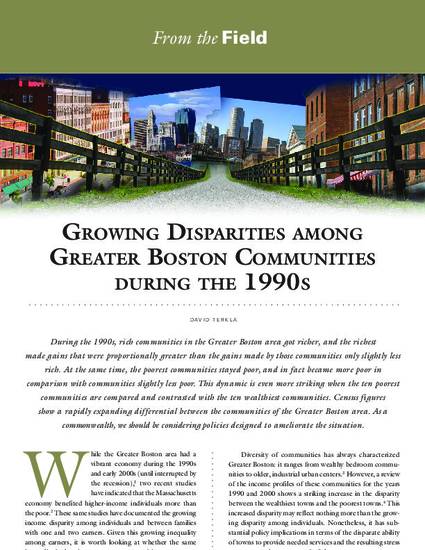 Article
Growing Disparities among Greater Boston Communities during the 1990s
Economics Faculty Publication Series
Publication Date
10-1-2003
Abstract
During the 1990s, rich communities in the Greater Boston area got richer, and the richest made gains that were proportionally greater than the gains made by those communities only slightly less rich. At the same time, the poorest communities stayed poor, and in fact became more poor in comparison with communities slightly less poor. This dynamic is even more striking when the ten poorest communities are compared and contrasted with the ten wealthiest communities. Census figures show a rapidly expanding differential between the communities of the Greater Boston area. As a commonwealth, we should be considering policies designed to ameliorate the situation.
Community Engaged/Serving
No, this is not community-engaged.
Publisher
University of Massachusetts
Citation Information
Terkla, David, "Growing Disparities among Greater Boston Communities during the 1990s" (2003). MassBenchmarks. Vol. 6, No. 3, pp. 20-26: http://scholarworks.umb.edu/econ_faculty_pubs/22