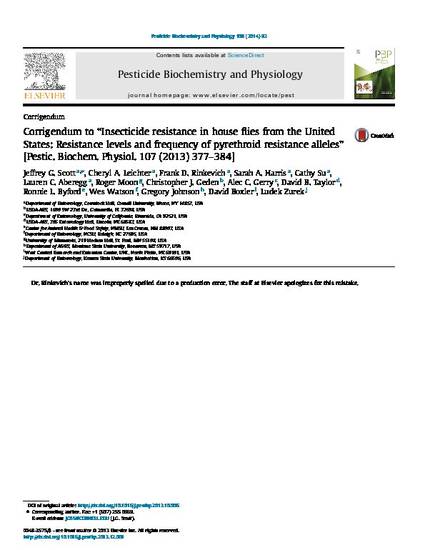 Article
Corrigendum to ''Insecticide resistance in house flies from the United States: Resistance levels and frequency of pyrethroid resistance alleles'' [Pestic. Biochem. Physiol. 107 (2013) 377–384]
Pesticide Biochemistry and Physiology (2014)
Abstract
Dr. Rinkevich's name was improperly spelled due to a production error. The staff at Elsevier apologizes for this mistake.
Citation Information
Jeffrey G. Scott, Cheryl A. Leichter, Frank D. Rinkevich, Sarah A. Harris, et al.. "Corrigendum to ''Insecticide resistance in house flies from the United States: Resistance levels and frequency of pyrethroid resistance alleles'' [Pestic. Biochem. Physiol. 107 (2013) 377–384]"
Pesticide Biochemistry and Physiology
Vol. 108 Iss. 1 (2014)
Available at: http://works.bepress.com/david_taylor/43/