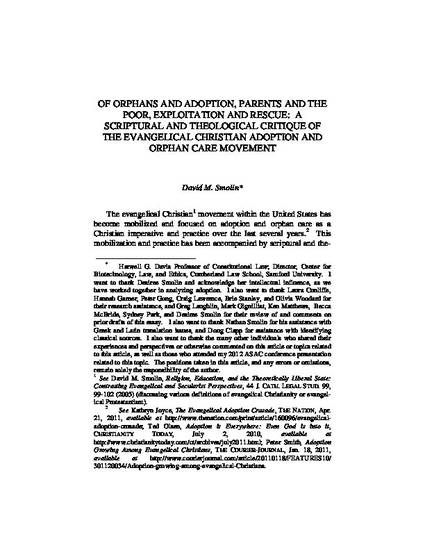 Article
OF ORPHANS AND ADOPTION, PARENTS AND THE POOR, EXPLOITATION AND RESCUE: A SCRIPTURAL AND THEOLOGICAL CRITIQUE OF THE EVANGELICAL CHRISTIAN ADOPTION AND ORPHAN CARE MOVEMENT
Regent Journal of International Law (2012)
Abstract
The primary purpose of this essay is to demonstrate that the scriptural and theological analysis undergirding the evangelical adoption and orphan care movement is patently and seriously erroneous. Thus, this essay will demonstrate that, based on the standards, methods, and presuppositions broadly shared by evangelical Christians in analyzing scripture and theology, the evangelical adoption movement's specific analysis of concepts such as "adoption" and "orphans" has been seriously deficient and has produced conclusions that are demonstrably false. The second purpose of this essay will be to indicate that these errors of scriptural and theological analysis have produced, and are producing, practices that in scriptural and Biblical terms would be called "sinful" and in more secular language can be called exploitative.
Keywords
Christianity and Adoption,
Religion and Adoption,
Orphans,
The Bible and Adoption
Publication Date
Spring 2012
Citation Information
David M. Smolin. "OF ORPHANS AND ADOPTION, PARENTS AND THE POOR, EXPLOITATION AND RESCUE: A SCRIPTURAL AND THEOLOGICAL CRITIQUE OF THE EVANGELICAL CHRISTIAN ADOPTION AND ORPHAN CARE MOVEMENT"
Regent Journal of International Law
Vol. 8 Iss. 2 (2012)
Available at: http://works.bepress.com/david_smolin/10/