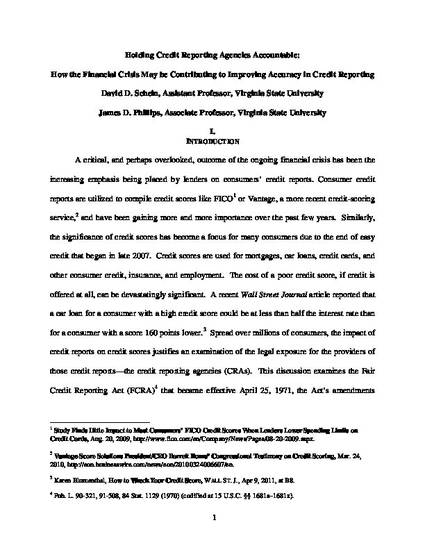 Unpublished Paper
Holding Credit Reporting Agencies Accountable:How the Financial Crisis May be Contributing to Improving Accuracy in Credit Reporting
ExpressO (2011)
Abstract
The ongoing financial crisis has increased the emphasis on consumers' credit reports. The significance of credit scores has become a focus for many consumers due to the end of easy credit that began in late 2007. Credit scores are used for mortgages, car loans, credit cards, and other consumer credit, insurance, and employment. The cost of a poor credit score, if credit is offered at all, can be devastatingly significant. The impact of credit reports on credit scores justifies an examination of the legal exposure for the providers of those credit reports—the credit reporting agencies (CRAs). This article examines the Fair Credit Reporting Act (FCRA), the Fair and Accurate Credit Transactions Act of 2003 (FACT Act), and The Consumer Credit Reporting Reform Act of 1996 (CCRA). It then examines decisions of the various Federal Appeals Court interpreting those laws and identifies trends regarding the liability of CRAs for sending out inaccurate credit information and/or failing to correct inaccurate credit information.
Keywords
Credit Reporting Agencies,
FACT,
FCRA,
CCRA,
US Courts of Appeals,
Consumers
Publication Date
November 4, 2011
Citation Information
David D. Schein and James D. Phillips. "Holding Credit Reporting Agencies Accountable:How the Financial Crisis May be Contributing to Improving Accuracy in Credit Reporting"
ExpressO
(2011)
Available at: http://works.bepress.com/david_schein/1/