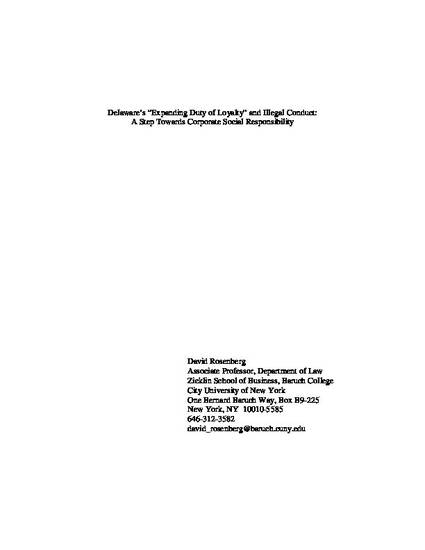 Unpublished Paper
Delaware's "Expanding Duty of Loyalty" and Illegal Conduct: A Step Towards Corporate Social Responsibility
ExpressO (2011)
Abstract
Courts and legal scholars have long agreed that approval of illegal activity constitutes a violation of a corporate director's fiduciary duties to the shareholders. While directors' fiduciary obligations have traditionally been divided into the duties of care, loyalty and good faith, recent decisions in the Delaware courts have narrowed them down into a fairly broadly defined single duty of loyalty. Therefore, in order for shareholders to bring a lawsuit against directors for approving illegal activity, they must claim that the directors acted disloyally, even in situations where the directors believed that their decision would benefit the corporation and the shareholders. This paper argues that enforcement of fiduciary duties in that context requires recognition of a duty of loyalty towards those actually damaged by the illegal action: outside stakeholders. Acknowledgment of a fiduciary duty to those outside the corporation is a first step towards creation of a broader duty of social responsibility in corporate law.
Keywords
corporate social responsibility,
fiduciary duties,
loyalty,
directors
Publication Date
March 4, 2011
Citation Information
David Rosenberg. "Delaware's "Expanding Duty of Loyalty" and Illegal Conduct: A Step Towards Corporate Social Responsibility"
ExpressO
(2011)
Available at: http://works.bepress.com/david_rosenberg/2/