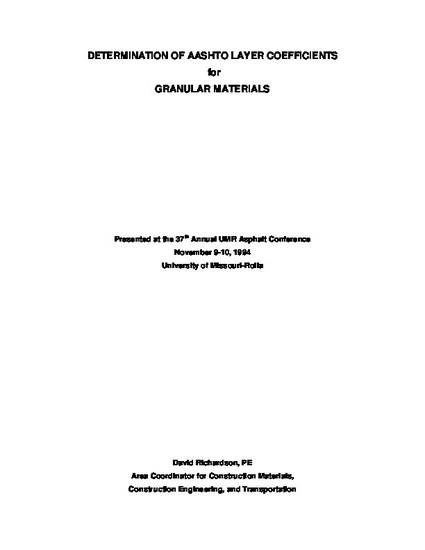 Article
Determination of AASHTO Layer Coefficients for Granular Materials by Use of Resilient Modulus
Proceedings of the 37th Annual Asphalt Conference (1994, Rolla, MO)
Abstract
The layer coefficients a2 or a3 for an unbound granular base or subbase material are found from a relationship with resilient modulus, Eb. The resilient modulus for a given material can be found by test using the "theta model" or by use of an estimation regression equation. Eb is a function of several factors, as discussed below.
Meeting Name
37th Annual UMR Asphalt Conference (1994: Nov. 9-10, Rolla, MO)
Department(s)
Civil, Architectural and Environmental Engineering
Document Type
Article - Conference proceedings
Document Version
Final Version
Rights
© 1994 University of Missouri--Rolla, All rights reserved.
Publication Date
1-1-1994
Citation Information
David Newton Richardson. "Determination of AASHTO Layer Coefficients for Granular Materials by Use of Resilient Modulus"
Proceedings of the 37th Annual Asphalt Conference (1994, Rolla, MO)
(1994)
Available at: http://works.bepress.com/david_richardson/60/