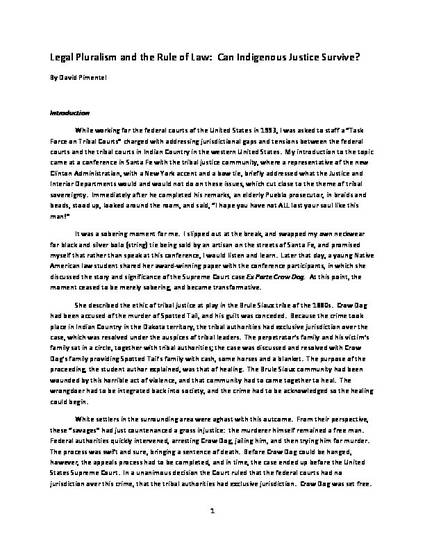 Article
Legal Pluralism and the Rule of Law: Can Indigenous Justice Survive?
Harvard International Review (2010)
Abstract
The clash between modern statutory justice systems and the traditional systems of indigenous communities is not on a level playing field. Even where legal pluralism is formally recognized, the conflict threatens the continued relevance of customary law.  If these non-Western legal systems are to maintain their relevance and vitality, if they are even to have a place in the new global community, those agencies and individuals engaged in promoting the rule of law, economic development, or respect for human rights must resist the impulse to simply impose the Western laws and legal institutions.  Instead, reform-minded agencies and individuals should seek opportunities to engage and influence customary law and customary institutions, to encourage human rights recognition within such systems, to help indigenous law adapt to minimum international norms (e.g. on human rights) on their own terms.  Solutions can and must come from customary systems' embracing human rights norms, not from initiatives to displace or ignore customary systems in favor of Western ones.  With appropriate influence, including that of limited judicial enforcement of constitutional guarantees under the legal pluralism regime, customary courts and customary law can become guardians not only of traditional culture, but also of human rights and rule of law principles.  And they will be all the more effective in this latter enterprise because the systems are home-grown, culturally appropriate, and embraced by the communities they serve. Legal pluralism continues to offer great promise, both for the preservation of cultural values and institutions, and ultimately for the establishment of the rule of law, but only if the indigenous legal systems can be engaged in a spirit of mutual respect.
Publication Date
Summer 2010
Citation Information
David Pimentel,
Legal Pluralism and the Rule of Law: Can Indigenous Justice Survive?
, 32(2)
Harv. Int'l. Rev.
32 (2010)