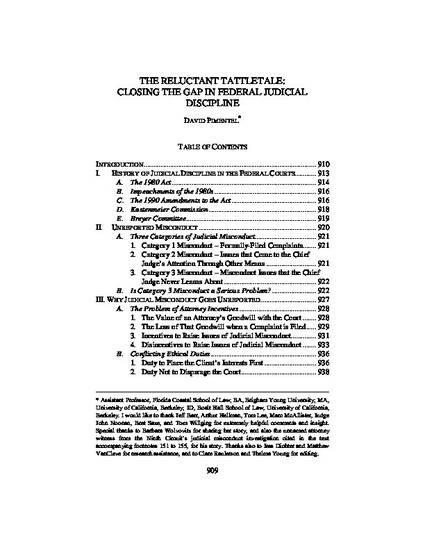 Article
The Reluctant Tattle-tale: Closing the Gap in Federal Judicial Discipline
Tennessee Law Review (2009)
Abstract
A 2006 report on the implementation of the federal judicial discipline system, issued by a special judiciary committee chaired by Justice Stephen Breyer, concluded that overall the system works quite well. We should not, however, take too much comfort in these conclusions, as serious problems persist beyond the Breyer Committee's focus, in the judicial misconduct that attorneys are unwilling to report. Indeed, when federal judges go bad, attorneys are usually the first to know, but the last to register a formal complaint. There is, in fact, little incentive for attorneys to complain, and ample reason for them to keep quiet; attorneys involved in the judicial misconduct process face troubling ethical dilemmas and can suffer severe professional repercussions. Even if the federal judiciary were to acknowledge the seriousness of the problem of attorney reluctance, it is not easily solved. At the very least, the judiciary can do more to encourage and facilitate anonymous complaints. The Judicial Conference's response to the Breyer Committee report—quite inconsistently with the spirit of that report—discourages anonymous reporting and obscures its availability more than ever; this is clearly a step in the wrong direction that must be reversed. In any case, the judiciary must confront and address the problem of the reluctant tattletale—finding ways to bring these complaints out and protect the attorneys involved—before it can defend the present system of judicial discipline as sound.
Keywords
Judicial Ethics,
Judicial Discipline,
Judicial Accountability,
Judicial Misconduct
Citation Information
David Pimentel,
The Reluctant Tattle-tale: Closing the Gap in Federal Judicial Discipline
, 76
Tenn. L. Rev.
909 (2009) Available at: http://works.bepress.com/david_pimentel/4