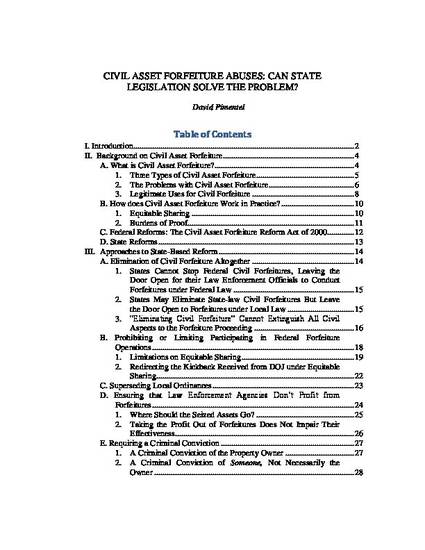 Article
Civil Asset Forfeiture Abuse: Can State Legislation Solve the Problem?
George Mason Law Review (2018)
Abstract
Civil asset forfeiture is an extraordinarily powerful tool for law enforcement, allowing the seizure of assets without proof of wrongdoing, and with few safeguards in place to protect innocent owners. The incentives to overreach are powerful as police are usually able to keep whatever they seize for their own use. Federal reform in 2000 was largely ineffective to rein in the abuses, and with public outrage against the practice rising, states are starting to weigh in with reforms of their own. But this is a complex area of law, and the financial incentives to perpetuate it are powerful. Accordingly, many of the state reforms, much like the federal reform, have failed to produce the desired results. This paper surveys the approaches taken in the various states, and lays out guidance for those legislatures that hope to curtail forfeiture abuses in their respective states. It is possible to address the problems, but it requires some care in sidestepping the many pitfalls on the path to meaningful reform.
Keywords
forfeiture,
civil asset forfeiture,
forfeiture reform,
state forfeiture laws,
civil forfeiture
Publication Date
Winter January, 2018
Citation Information
25 GEO. MASON L. REV. ___ (2018)