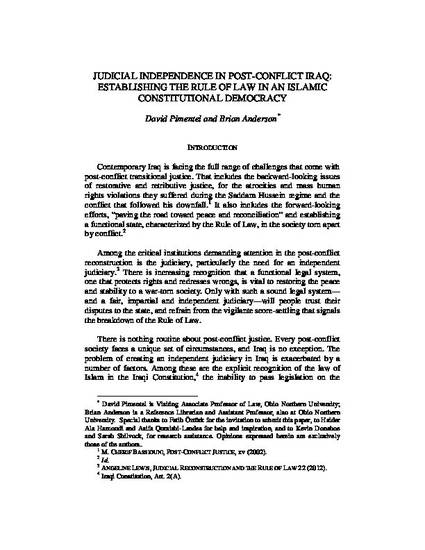 Article
Judicial Independence in Post-Conflict Iraq: Establishing the Rule of Law in an Islamic Constitutional Democracy
Geo. Wash. Int'l L. Rev (2013)
Abstract
Contemporary Iraq is facing the full range of challenges that come with post-conflict transitional justice, including "paving the road toward peace and reconciliation" and establishing a functional state, characterized by the Rule of Law. Prospects for the establishment of an independent judiciary in Iraq are obstructed by a number of factors, including (1) how to apply the explicit recognition of the law of Islam in the Iraqi Constitution, (2) the inability to pass legislation on the Federal Courts of Iraq, leaving several provisions of the Iraqi Constitution unimplemented, and other critical elements of judicial independence unaddressed, including provisions for tenure, reappointment and removal of judges, and (3) the impact of the de-Ba'athification authority in Iraq, which has sweeping power to remove judges, and other officials, from office based on allegations that they were too closely tied to the prior regime. Serious concerns about security for judges in Iraq further complicate the picture. Hopes for the Rule of Law in post-conflict Iraq depend heavily on Iraq's ability to address these deficiencies in judicial independence, setting the stage for effective anti-corruption, reconciliation, peace-building and justice among a people who desperately need it, and who have lived without it for far too long.
Keywords
Judicial Independence,
Iraq,
Islamic Law,
Shari'a
Citation Information
David Pimentel and Brian Anderson,
Judicial Independence in Post-conflict Iraq: Establishing the Rule of Law in an Islamic Constitutional Democracy
46
Geo. Wash. Int'l L. Rev.
___ (2013)