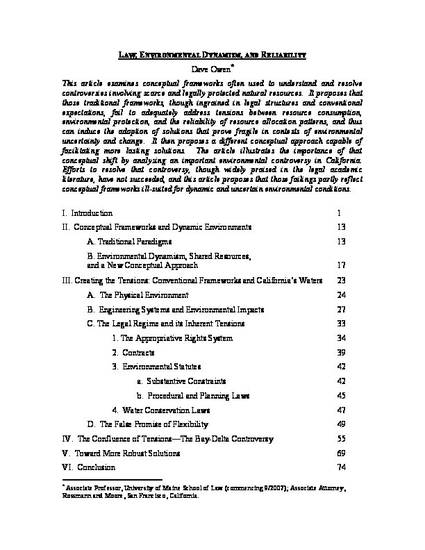 Unpublished Paper
Law, Environmental Dynamism, and Reliability
ExpressO (2007)
Abstract
This article examines conceptual frameworks often used to understand and resolve controversies involving scarce and legally protected natural resources. It proposes that those traditional frameworks, though ingrained in legal structures and conventional expectations, fail to adequately address tensions between resource consumption, environmental protection, and the reliability of resource allocation patterns, and thus can induce the adoption of solutions that prove fragile in contexts of environmental uncertainty and change. It then proposes a different conceptual approach capable of facilitating more lasting solutions. The article illustrates the importance of that conceptual shift by analyzing the "CALFED" controversy, an important environmental controversy in California. Efforts to resolve that controversy, though widely praised in the legal academic literature, have not succeeded, and this article proposes that those failings partly reflect conceptual frameworks ill-suited for dynamic and uncertain environmental conditions.
Publication Date
March, 2007
Citation Information
David R Owen. "Law, Environmental Dynamism, and Reliability"
ExpressO
(2007)
Available at: http://works.bepress.com/david_owen/1/