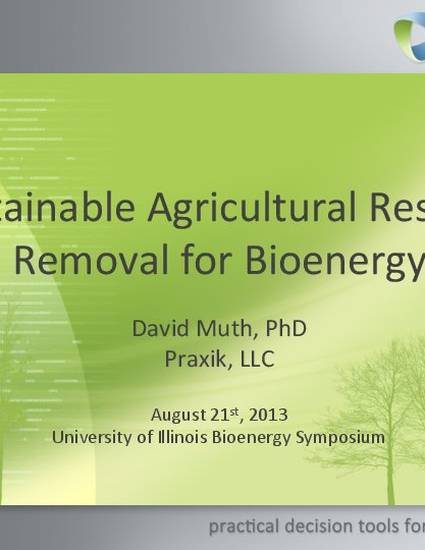 Presentation
Sustainable Residue Removal Decisions for Bioenery and Animal Feed Applications
Ninth Annual Bioenergy Feedstocks Symposium (2013)
Abstract
This work was initiated under the DOE Regional Biomass Feedstock Partnership Program to develop tools that support sustainable agricultural residue removal decisions. The project has delivered four key products: 1) a revised national assessment that delivers sustainable residue removal coefficients used for the Billion Ton Study Update, 2) a sub-field scale assessment framework which has characterized the impact of sub-field variability in surface topography, soil characteristics, and grain yields on sustainable residue removal, 3) an analytical assessment and toolset for engineering precision agricultural residue removal equipment, and 4) multiple deployments of decision support tools being used across the public and private sectors. The primary deployment of the residue tool is an open source code library call the Landscape Environmental Assessment Framework (LEAF). The LEAF tools are currently being used by multiple industry and research partners to perform sustainable residue removal analyses. LEAF has also been used to produce a mobile application called SustainR2 which is available in the Apple App Store. SustainR2 was used to evaluate over 1100 residue removal scenarios this last fall.
Publication Date
August 21, 2013
Citation Information
David J. Muth. "Sustainable Residue Removal Decisions for Bioenery and Animal Feed Applications"
Ninth Annual Bioenergy Feedstocks Symposium
(2013)
Available at: http://works.bepress.com/david_muth/28/