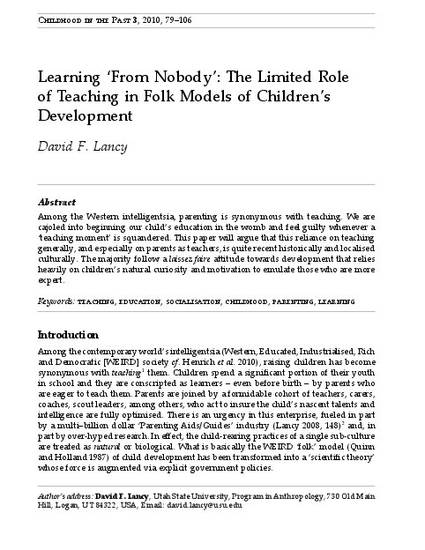 Article
Learning "From Nobody:" The Limited Role of Teaching in Folk Models of Children's Development
Childhood in the Past. (2010)
Abstract
Among the Western intelligentsia, parenting is synonymous with teaching. We are cajoled into beginning our child's education in the womb and feel guilty whenever a 'teaching moment' is squandered. This paper will argue that this reliance on teaching generally, and especially on parents as teachers, is quite recent historically and localised culturally. The majority follow a laissez faire attitude towards development that relies heavily on children's natural curiosity and motivation to emulate those who are more expert.
Keywords
learning,
teaching,
folk models,
children's development
Publication Date
January 1, 2010
Citation Information
Lancy, D.F. (2010) Learning "From Nobody:" The Limited Role of Teaching in Folk Models of Children's Development. Childhood in the Past. 3: 79-106.