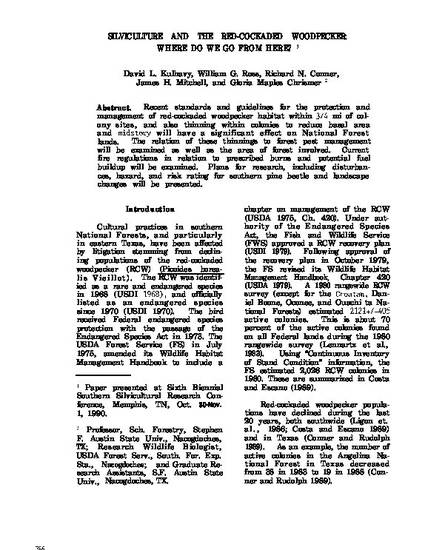 Article
Silviculture and the red-cockaded woodpecker: Where do we go from here?
Faculty Publications
Document Type
Conference Proceeding
Publication Date
1-1-1991
Abstract
Recent standards and guidelines for the protection and management of red-cockaded woodpecker habitat within 3/4 mi of colony sites, and also thinning within colonies to reduce basal area and midstory will have a significant effect on National Forest lands. The relation of these thinnings to forest pest management will be examined as well as the area of forest involved. Current fire regulations in relation to prescribed burns and potential fuel buildup will be examined. Plans for research, including disturbances, hazard, and risk rating for southern pine beetle and landscape changes will be presented.
Citation Information
David Kulhavy, W. G. Ross, Richard N. Conner, James H. Mitchell, et al.. "Silviculture and the red-cockaded woodpecker: Where do we go from here?" (1991)
Available at: http://works.bepress.com/david_l_kulhavy/44/