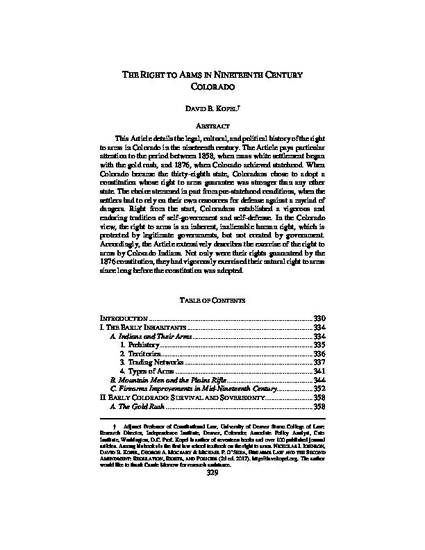 Article
The Right to Arms in Nineteenth Century Colorado
Denver University Law Review (2018)
Abstract
This Article details the legal, cultural, and political history of the right to arms in Colorado in the nineteenth century. The Article pays particular attention to the period between 1858, when mass settlement began with the gold rush, and 1876, when Colorado achieved statehood. When Colorado became the thirty-eighth state, Coloradans chose to adopt a constitution whose right to arms guarantee was stronger than any other state. The choice stemmed in part from pre-statehood conditions, when the settlers had to rely on their own resources for defense against a myriad of dangers. Right from the start, Coloradans established a vigorous and enduring tradition of self-government and self-defense. In the Colorado view, the right to arms is an inherent, inalienable human right, which is protected by legitimate governments, but not created by government. Accordingly, the Article extensively describes the exercise of the right to arms by Colorado Indians. Not only were their rights guaranteed by the 1876 constitution, they had vigorously exercised their natural right to arms since long before the constitution was adopted.
Keywords
Right to Arms,
Colorado,
State Constitution
Citation Information
David B Kopel. "The Right to Arms in Nineteenth Century Colorado"
Denver University Law Review
Vol. 92 (2018) p. 329 - 456
Available at: http://works.bepress.com/david_kopel/69/