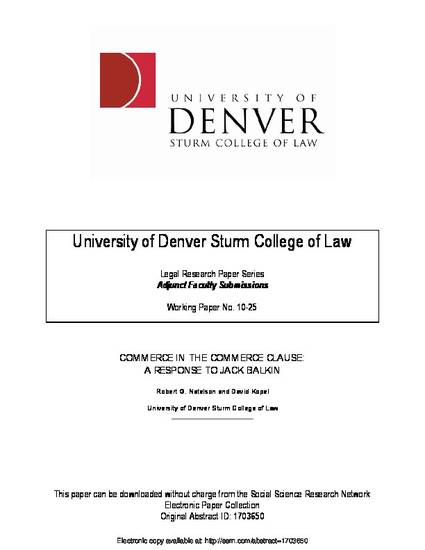 Article
Commerce in the Commerce Clause: A Response to Jack Balkin
Michigan Law Review First Impressions (2010)
Abstract
The Constitution's original meaning is its meaning to those ratifying the document during a discrete time period: from its adoption by the Constitutional Convention in late 1787 until Rhode Island's ratification on May 29, 1790. Reconstructing it requires historical skills, including a comprehensive approach to sources. Jack Balkin's article Commerce fails to consider the full range of evidence and thereby attributes to the Constitution's Commerce Clause a scope that virtually no one in the Founding Era believed it had.
Keywords
Interstate commerce clause,
Affordable Care Act,
individual mandate,
health care
Citation Information
David B Kopel and Robert G Natelson. "Commerce in the Commerce Clause: A Response to Jack Balkin"
Michigan Law Review First Impressions
Vol. 109 (2010)
Available at: http://works.bepress.com/david_kopel/39/