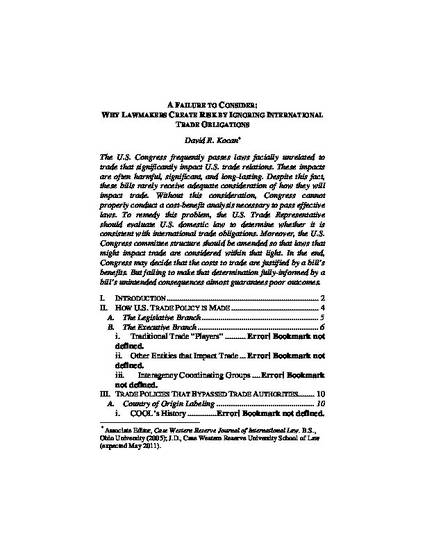 Unpublished Paper
A Failure to Consider: Why Lawmakers Create Risk by Ignoring Trade Obligations
ExpressO (2013)
Abstract
The U.S. Congress frequently passes laws facially unrelated to trade that significantly impact U.S. trade relations. These impacts are often harmful, significant, and long-lasting. Despite this fact, these bills rarely receive adequate consideration of how they will impact trade. Without this consideration, Congress cannot properly conduct a cost-benefit analysis necessary to pass effective laws. To remedy this problem, the U.S. Trade Representative should evaluate U.S. domestic law to determine whether it is consistent with international trade obligations. Moreover, the U.S. Congress committee structure should be amended so that laws that might impact trade are considered within that light. In the end, Congress may decide that the costs to trade are justified by a bill's benefits. But failing to make that determination fully-informed by a bill's unintended consequences almost guarantees poor outcomes.
Keywords
International Trade,
Trade,
WHTI,
Western Hemisphere Travel Initiative,
National Security,
Country of Origin Labeling,
Clove Cigarettes,
FDA,
USTR,
US Trade Representative,
WTO,
World Trade Organization,
Most Favored Nation,
MFN
Publication Date
March 31, 2013
Citation Information
David R. Kocan. "A Failure to Consider: Why Lawmakers Create Risk by Ignoring Trade Obligations"
ExpressO
(2013)
Available at: http://works.bepress.com/david_kocan/1/