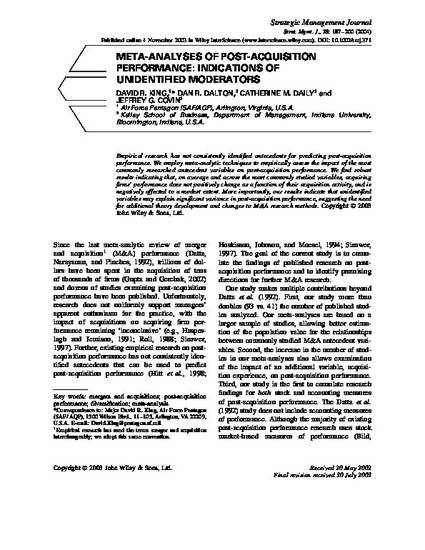 Article
Meta-analyses of Post-acquisition Performance: Indications of Unidentified Moderators
Strategic Management Journal
Publication Date
1-1-2004
Abstract
Empirical research has not consistently identified antecedents for predicting post-acquisition performance. We employ meta-analytic techniques to empirically assess the impact of the most commonly researched antecedent variables on post-acquisition performance. We find robust results indicating that, on average and across the most commonly studied variables, acquiring firms' performance does not positively change as a function of their acquisition activity, and is negatively affected to a modest extent. More importantly, our results indicate that unidentified variables may explain significant variance in post-acquisition performance, suggesting the need for additional theory development and changes to M&A research methods.
Citation Information
David R. King, Dan R. Dalton, Catherine M Daily and Jeffrey G. Covin. "Meta-analyses of Post-acquisition Performance: Indications of Unidentified Moderators"
Strategic Management Journal
(2004) ISSN: 0143-2095
Available at: http://works.bepress.com/david_king/29/