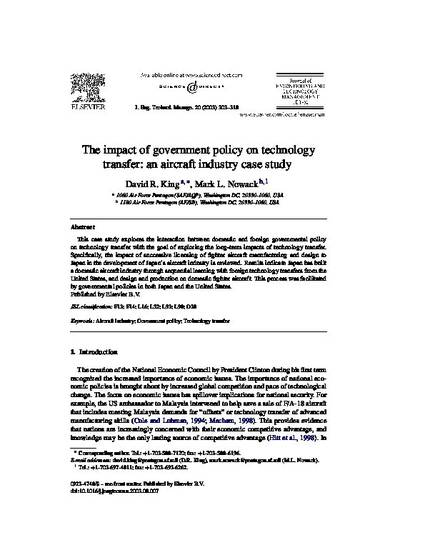 Article
The Impact of Government Policy on Technology Transfer: An Aircraft Industry Case Study
Journal of Engineering and Technology Management
Publication Date
1-1-2003
Original Item ID
doi: 10.1016/j.jengtecman.2003.08.007
Abstract
This case study explores the interaction between domestic and foreign governmental policy on technology transfer with the goal of exploring the long-term impacts of technology transfer. Specifically, the impact of successive licensing of fighter aircraft manufacturing and design to Japan in the development of Japan's aircraft industry is reviewed. Results indicate Japan has built a domestic aircraft industry through sequential learning with foreign technology transfers from the United States, and design and production on domestic fighter aircraft. This process was facilitated by governmental policies in both Japan and the United States.
Citation Information
David King and Mark L Nowack. "The Impact of Government Policy on Technology Transfer: An Aircraft Industry Case Study"
Journal of Engineering and Technology Management
(2003) ISSN: 0923-4748
Available at: http://works.bepress.com/david_king/26/