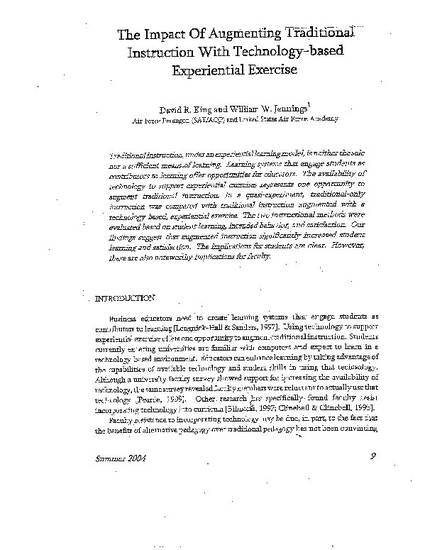 Article
The Impact of Augmenting Traditional Instruction with Technology-based, Experiential Exercise
Journal of Financial Education
Publication Date
1-1-2004
Publisher
Financial Education Association
Abstract
Traditional instruction, under an experiential learning model, is neither the sole nor a sufficient means of learning. Learning systems that engage students as contributors to learning offer opportunities for educators. The availability of technology to support experiential exercises represents one opportunity to augment traditional instruction. In a quasi-experiment, traditional-only instruction was compared with traditional instruction augmented with a technology-based, experiential exercise. The two instructional methods were evaluated based on student learning, intended behavior, and satisfaction. Our findings suggest that augmented instruction significantly increased student learning and satisfaction. The implications for students are clear. However, there are also noteworthy implications for faculty.
Citation Information
David R. King and William W. Jennings. "The Impact of Augmenting Traditional Instruction with Technology-based, Experiential Exercise"
Journal of Financial Education
(2004) ISSN: 0093-3961
Available at: http://works.bepress.com/david_king/10/