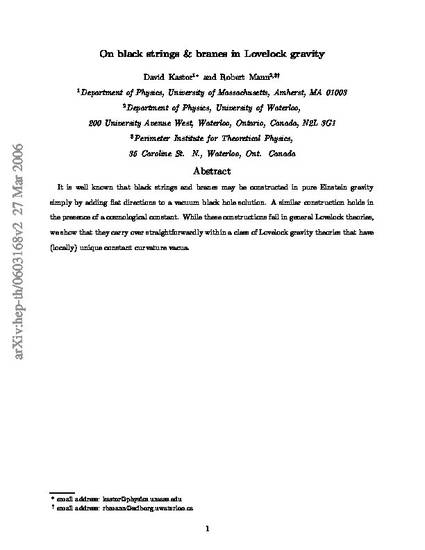 Article
On black strings & branes in Lovelock gravity
Journal of High Energy Physics
Abstract
It is well known that black strings and branes may be constructed in pure Einstein gravity simply by adding flat directions to a vacuum black hole solution. A similar construction holds in the presence of a cosmological constant. While these constructions fail in general Lovelock theories, we show that they carry over straightforwardly within a class of Lovelock gravity theories that have (locally) unique constant curvature vacua.
Citation Information
David Kastor and Robert Mann. "On black strings & branes in Lovelock gravity"
Journal of High Energy Physics
Vol. 2006 Iss. JHEP04(2006) (2006)
Available at: http://works.bepress.com/david_kastor/26/