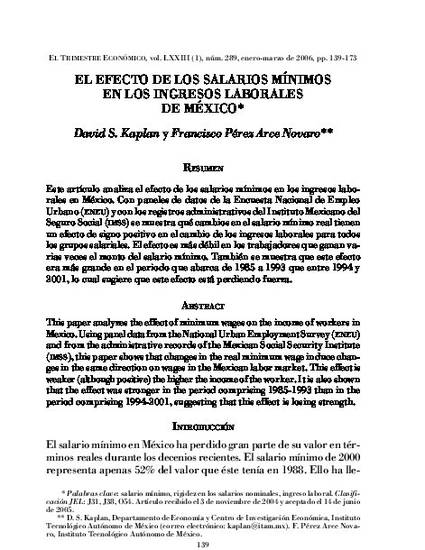 Article
El Efecto de los Salarios Minimos en los Ingresos Laborales de Mexico
El Trimestre Economico (2006)
Abstract
This paper analyzes the effect of minimum wages on the income of workers in Mexico. Using panel data from the National Urban Employment Survey (ENEU) and from the administrative records of the Mexican Social Security Institute (IMSS), this paper shows that changes in the real minimum wage induce changes in the same direction on wages in the Mexican labor market. This effect is weaker (although positive) the higher the income of the worker. It is also shown that the effect was stronger in the period comprising 1985-1993 than in the period comprising 1994--2001, suggesting that this effect is losing strength.
Keywords
minimum wage,
nominal wage rigidities,
labor income
Publication Date
January, 2006
Citation Information
David S. Kaplan and Francisco Perez Arce Novaro. "El Efecto de los Salarios Minimos en los Ingresos Laborales de Mexico"
El Trimestre Economico
Vol. 73 Iss. 1 (2006)
Available at: http://works.bepress.com/david_kaplan/6/