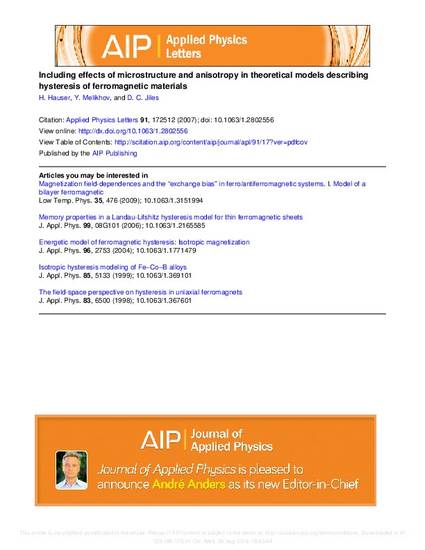 Article
Including effects of microstructure and anisotropy in theoretical models describing hysteresis of ferromagnetic materials
Applied Physics Letters (2007)
Abstract
Two recent theoreticalhysteresis models (Jiles-Atherton model and energetic model) are examined with respect to their capability to describe the dependence of the magnetization on magnetic field, microstructure, and anisotropy. It is shown that the classical Rayleigh law for the behavior of magnetization at low fields and the Stoner-Wohlfarth theory of domain magnetization rotation in noninteracting magnetic single domain particles can be considered as limiting cases of a more general theoretical treatment of hysteresis in ferromagnetism.
Keywords
Magnetic hysteresis,
Magnetic anisotropy,
Classical field theory,
Ferromagnetism,
Demagnetization
Citation Information
H. Hauser, Y. Melikhov and David C. Jiles. "Including effects of microstructure and anisotropy in theoretical models describing hysteresis of ferromagnetic materials"
Applied Physics Letters
Vol. 9+1 Iss. 17 (2007)
Available at: http://works.bepress.com/david_jiles/62/