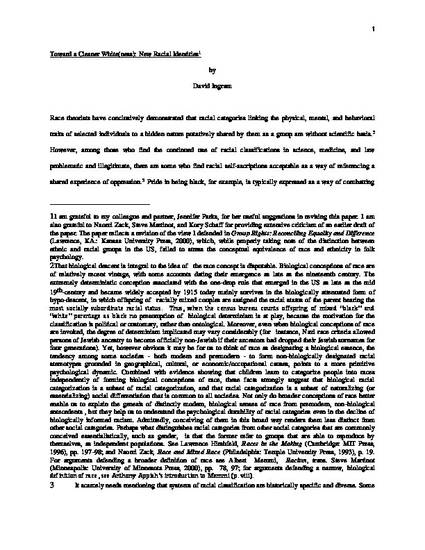 Article
Toward a Cleaner Whiteness: New Racial Identities
The Philosophical Forum
Publication Date
10-1-2005
Abstract
The article re-examines racial and ethnic identity within the context of pedagogical attempts to instill a positive white identity in white students who are conscious of the history of white racism and white privilege. The paper draws heavily from whiteness studies and developmental cognitive science in arguing (against Henry Giroux and Stuart Hall) that a positive notion of white identity, however postmodern its construction, is an oxymoron, since whiteness designates less a cultural/ethnic ethos and meaningful way of life than a pathological structure of privilege and narrowminded cognitive habitus.
Creative Commons License
Creative Commons Attribution-Noncommercial-No Derivative Works 3.0
Copyright Statement
© 2005 Wiley-Blackwell.
Citation Information
David Ingram. "Toward a Cleaner Whiteness: New Racial Identities"
The Philosophical Forum
Vol. 36 Iss. 3 (2005)
Available at: http://works.bepress.com/david_ingram/16/