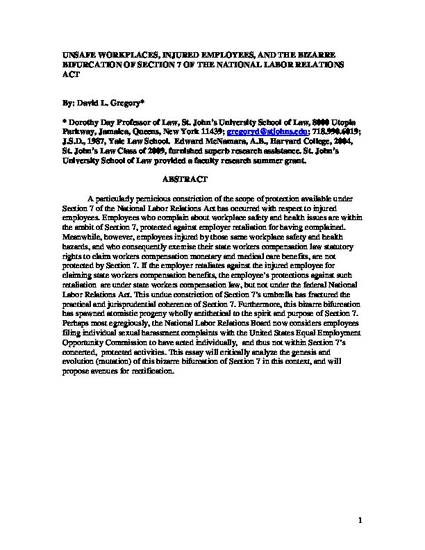 Unpublished Paper
UNSAFE WORKPLACES, INJURED EMPLOYEES, AND THE BIZARRE BIFURCATION OF SECTION 7 OF THE NATIONAL LABOR RELATIONS ACT
ExpressO (2008)
Abstract
A particularly pernicious constriction of the scope of protection available under Section 7 of the National Labor Relations Act has occurred with respect to injured employees. Employees who complain about workplace safety and health issues are within the ambit of Section 7, protected against employer retaliation for having complained. Meanwhile, however, employees injured by those same workplace safety and health hazards, and who consequently exercise their state workers compensation law statutory rights to claim workers compensation monetary and medical care benefits, are not protected by Section 7. If the employer retaliates against the injured employee for claiming state workers compensation benefits, the employee's protections against such retaliation are under state workers compensation law, but not under the federal National Labor Relations Act. This undue constriction of Section 7's umbrella has fractured the practical and jurisprudential coherence of Section 7. Furthermore, this bizarre bifurcation has spawned atomistic progeny wholly antithetical to the spirit and purpose of Section 7. Perhaps most egregiously, the National Labor Relations Board now considers employees filing individual sexual harassment complaints with the United States Equal Employment Opportunity Commission to have acted individually, and thus not within Section 7's concerted, protected activities. This essay will critically analyze the genesis and evolution (mutation) of this bizarre bifurcation of Section 7 in this context, and will propose avenues for rectification.
Publication Date
August 11, 2008
Citation Information
David L. Gregory. "UNSAFE WORKPLACES, INJURED EMPLOYEES, AND THE BIZARRE BIFURCATION OF SECTION 7 OF THE NATIONAL LABOR RELATIONS ACT"
ExpressO
(2008)
Available at: http://works.bepress.com/david_gregory/3/