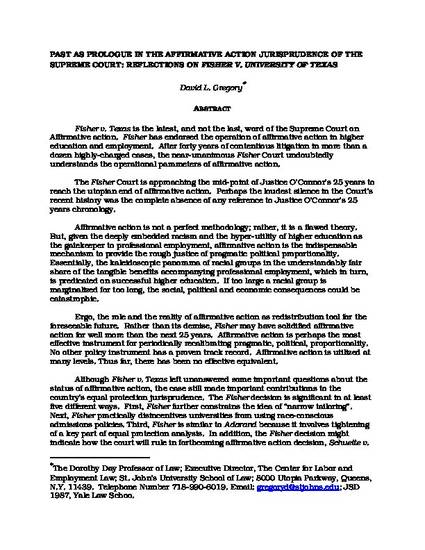 Unpublished Paper
Past as Prologue in the Affirmative Action Jurisprudence of the Supreme Court: Reflections on Fisher v. University of Texas
ExpressO (2013)
Abstract
Fisher v. Texas is the latest, and not the last, word of the Supreme Court on Affirmative Action. After forty years of contentious litigation in more than a dozen highly-charged cases, the near-unanimous Fisher Court undoubtedly understands the operational parameters of affirmative action. The Fisher Court is approaching the mid-point of Justice O'Connor's 25 years to reach the utopian end of affirmative action. Perhaps the loudest silence in the Fisher Court's recent history was the complete absence of any reference to Justice O'Connor's 25 years chronology. Affirmative action is not a perfect methodology; rather, it is a flawed theory. But, given the deeply embedded racism and the hyper-utility of higher education as the gatekeeper to professional employment, affirmative action is the indispensable mechanism to provide the rough justice of pragmatic political proportionality. If too large a racial group is marginalized for too long, the social, political and economic consequences could be catastrophic. Ergo, the role and the reality of affirmative action as redistribution tool for the foreseeable future. Rather than its demise, Fisher may have solidified affirmative action for well more than the next 25 years. Affirmative action is perhaps the most effective instrument for periodically recalibrating pragmatic, political, proportionality. No other policy instrument has a proven track record. Thus far, there has been no effective equivalent. Although Fisher v. Texas left unanswered some important questions about the status of affirmative action, the case still made important contributions to the country's jurisprudence. The Fisher decision is significant in at least five different ways. First, Fisher further constrains the idea of "narrow tailoring". Next, Fisher practically disincentives universities from using race-conscious admissions policies. Third, Fisher is similar to Adarand because it involves tightening of a key part of equal protection analysis. In addition, the Fisher decision might indicate how the Court will rule in the forthcoming affirmative action case, Schuette v. Coalition to Defend Affirmative Action. Finally, Fisher is an important milestone on the 25 year journey towards the end of affirmative action as Justice O'Connor knew it.
Publication Date
October 7, 2013
Citation Information
David L. Gregory. "Past as Prologue in the Affirmative Action Jurisprudence of the Supreme Court: Reflections on Fisher v. University of Texas"
ExpressO
(2013)
Available at: http://works.bepress.com/david_gregory/20/