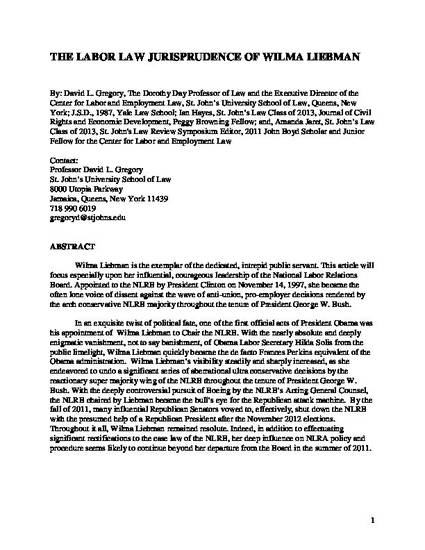 Unpublished Paper
The Labor Law Jurisprudence of Wilma Liebman
ExpressO (2012)
Abstract
Wilma Liebman is the exemplar of the dedicated, intrepid public servant. This article will focus especially upon her influential, courageous leadership of the National Labor Relations Board. Appointed to the NLRB by President Clinton on November 14, 1997, she became the often lone voice of dissent against the wave of anti-union, pro-employer decisions rendered by the arch conservative NLRB majority throughout the tenure of President George W. Bush. In an exquisite twist of political fate, one of the first official acts of President Obama was his appointment of Wilma Liebman to Chair the NLRB. With the nearly absolute and deeply enigmatic vanishment, not to say banishment, of Obama Labor Secretary Hilda Solis from the public limelight, Wilma Liebman quickly became the de facto Frances Perkins equivalent of the Obama administration. Wilma Liebman's visibility steadily and sharply increased, as she endeavored to undo a significant series of aberrational ultra conservative decisions by the reactionary super majority wing of the NLRB throughout the tenure of President George W. Bush. With the deeply controversial pursuit of Boeing by the NLRB's Acting General Counsel, the NLRB chaired by Liebman became the bull's eye for the Republican attack machine. By the fall of 2011, many influential Republican Senators vowed to, effectively, shut down the NLRB with the presumed help of a Republican President after the November 2012 elections. Throughout it all, Wilma Liebman remained resolute. Indeed, in addition to effectuating significant rectifications to the case law of the NLRB, her deep influence on NLRA policy and procedure seems likely to continue beyond her departure from the Board in the summer of 2011.
Publication Date
March 7, 2012
Citation Information
David L. Gregory. "The Labor Law Jurisprudence of Wilma Liebman"
ExpressO
(2012)
Available at: http://works.bepress.com/david_gregory/13/